"Kipperpfennige" from Brandenburg
In the early 1620s, the Margraviate of Brandenburg was not really involved in the Thiry Years' War yet. In this time the price of silver was rising quickly. The local aristocracy therefore decided in many regions to lower the silver content of coins. The so-called time of Kipper and Wipper coinage had come. 'Kipper' refers to the fact that coins were partially cut down to a smaller size in order to save precious material. 'Wipper' stands for the common act of moneyers and mint masters keeping heavier and thereby more valuable coins to themselves while distributing the lighter and less valuable ones.
The latter way was only possible because some mints in Brandenburg cities were privately held. Another fact that suggests a rather chaotic monetary policy in these times is that several cities in Brandenburg even minted coins without a permission to do so. However, luckily for collectors of Brandenburg coinage this resulted in a large variety of municipal coins that were minted mainly in 1621 and 1622. The denominations of these coins were relatively small, with Pfennige and Dreier being the most common ones.
While some of these local issues can be found rather easily (Frankfurt / Oder Pfennige, Neuruppin Pfennige, Beeskow Pfennige) there are several issues that rarely listed in auctions (Fürstenwalde Pfennige, Küstrin Pfennige, Guben Pfennige).
Literature on Brandenburg Kipperpfennige
An excellent guide for these Brandenburg municipal coins is "Die Brandenburgischen Städtemünzen aus der Kipperzeit. 1621 – 1623", written by Emil Bahrfeldt in 1882 (free PDF here). Even though it is only available in German it contains many helpful information on these types of coins, including exact descriptions of the different types (including varieties) and drawn images of most coins.
In the following you can find some examples of Kipperpfennige coins from Brandenburg.
Beeskow
Date: 1621
Material: Billon
Diameter: xx mm
Weight: 0,xx g
Edge: Smooth
Obverse: Shield of two-fold arms, date above, B below
Reference: Bahrfeldt Städte 61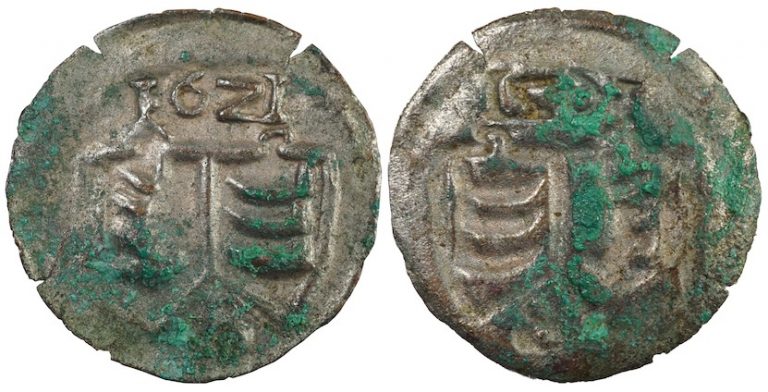 Cottbus
Date: undated
Material: Billon
Diameter: XX mm
Weight: 0,17 g
Edge: Smooth
Obverse: Crawfish, S C at the bottom
Reference: Bahrfeldt 100-109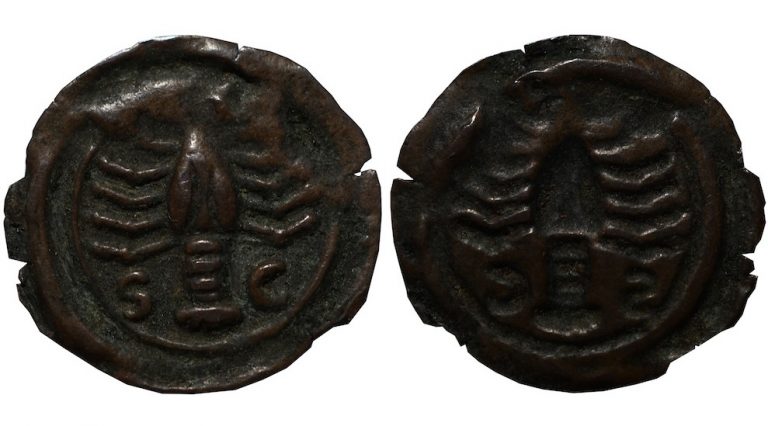 Drossen
Date: 1622
Material: Billon (?)
Diameter: xx mm
Weight: 0,xx g
Edge: Smooth
Obverse: Shield of arms with eagle, ornaments left and right, date and D above
Reference: Bahrfeldt 97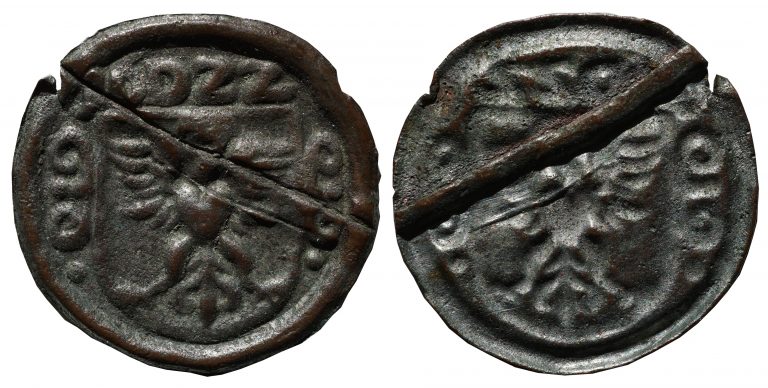 Frankfurt
Date: 1622 (ZZ)
Material: Billon
Diameter: XX mm
Weight: XX g
Edge: Smooth
Obverse: Shield of arms with knight and rooster, date above, F below
Reference: Bahrfeldt 70-83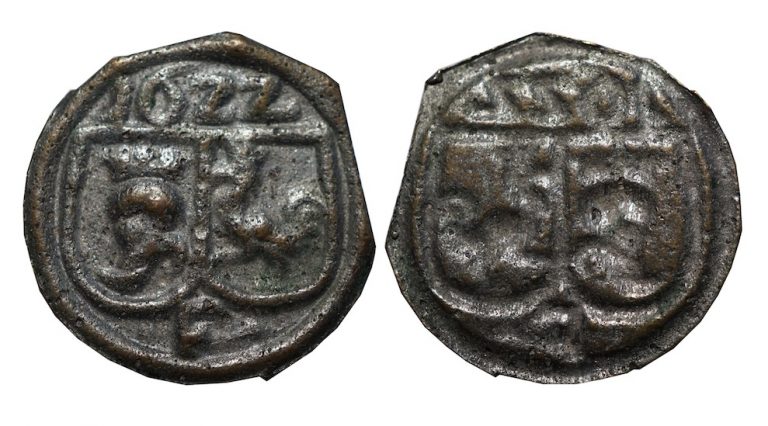 Fürstenwalde
Date: 1621
Material: Copper
Diameter: xx mm
Weight: 0,xx g
Edge: Smooth
Obverse: Shield of arms with tree, date above, F W below
Reference: Bahrfeldt Städte 53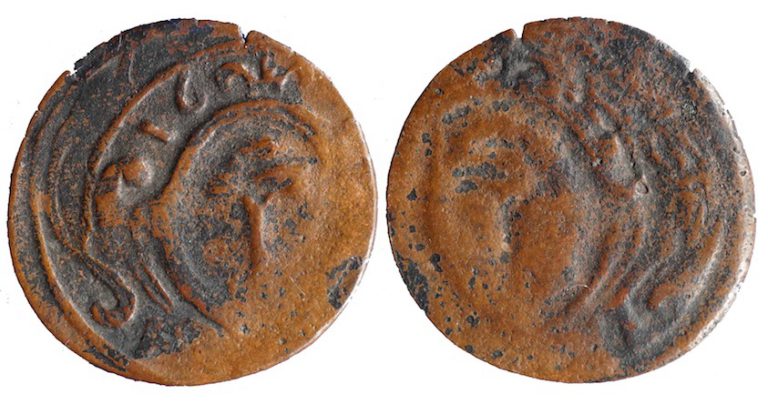 Guben
Date: 1621
Material: Copper
Diameter: xx mm
Weight: 0,xx g
Edge: Smooth
Obverse: Large Crown, date divided by G below
Reference: Bahrfeldt Städte 135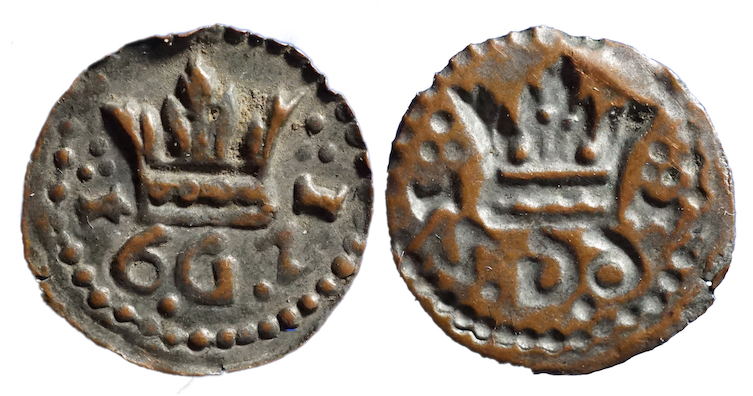 Guben
Date: 1621
Material: Copper
Diameter: xx mm
Weight: 0,xx g
Edge: Smooth
Obverse: G below Crown, 'Pfennig'-sign inside, 1621 above
Reference: Bahrfeldt Städte 149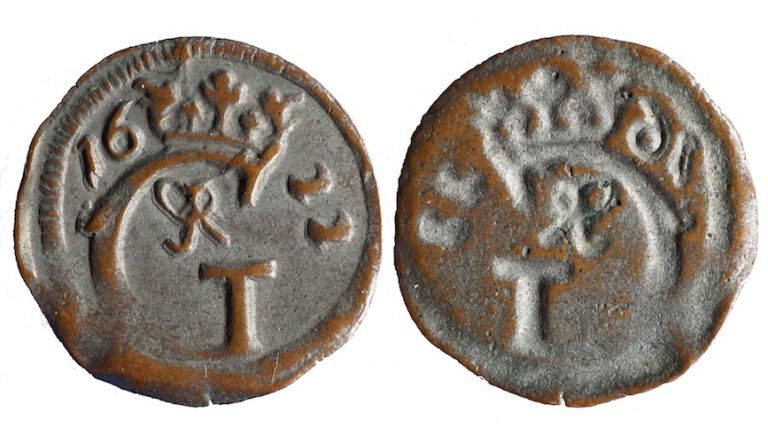 Krossen
Date: 1622
Material: Billon (?)
Diameter: xx mm
Weight: 0,xx g
Edge: Smooth
Obverse: Shield of arms with eagle left and doubled lilly right, ornament above, C below
Reference: Bahrfeldt 98
Küstrin
Date: 1621
Material: Copper
Diameter: xx mm
Weight: 0,xx g
Edge: Smooth
Obverse: Shield of two-fold arms, date divided by C above
Reference: Bahrfeldt 86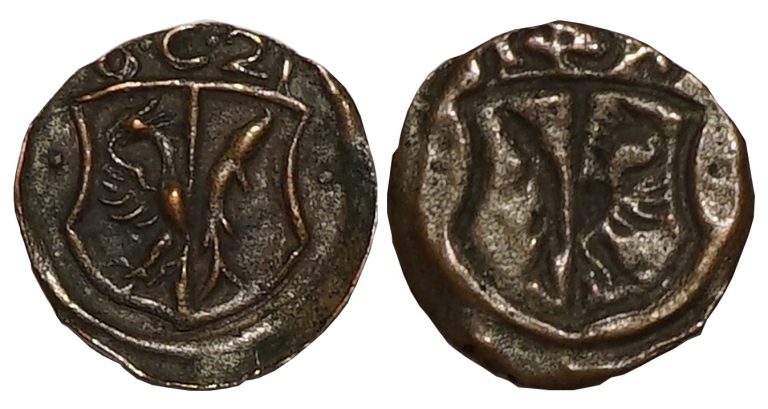 Neuruppin
Date: 1622 (ZZ)
Material: Copper
Diameter: XX mm
Weight: XX g
Edge: Smooth
Obverse: Eagle with helmet, NR at the top and ZZ at the bottom
Reference: Bahrfeldt 10-16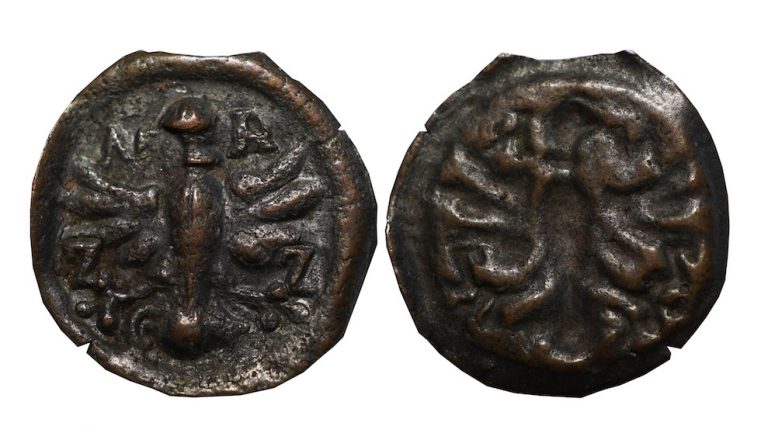 Prenzlau
Date: 1622
Material: Copper
Diameter: xx mm
Weight: 0,xx g
Edge: Smooth
Obverse: Brandenburg Eagle, feathered helmet above, all in circle
Reverse: 3-line inscription with date
Reference: Bahrfeldt 17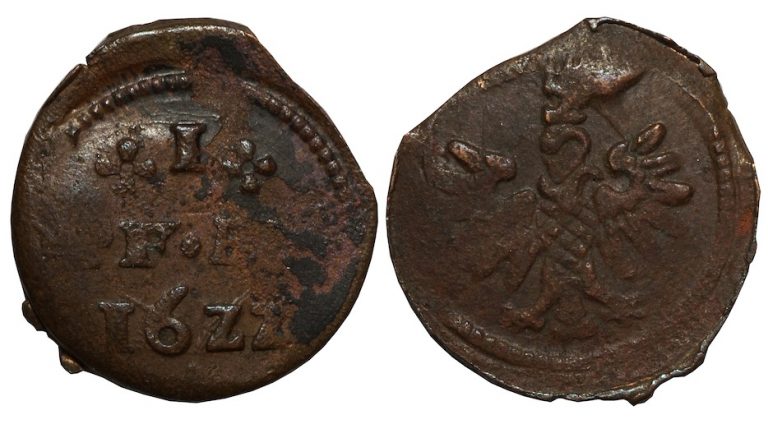 Sorau
Date: 1622
Material: Billon (?)
Diameter: 15 mm
Weight: 0,57 g
Edge: Smooth
Obverse: S between date, W, III below
Reverse: Ornate shield with arrow between two stars
Reference: Bahrfeldt 200 (maybe a different variety)