Reichskreditkassen coins (German WW2 military coinage)
The Reichskreditkassen were the institutions being responsible for providing currencies for the territories that were occupied by Germany in WW2, such as Ukraine, Belgium, and Poland. Besides several Reichsmark banknotes that were introduced by the Reichskreditkassen, coins were produced as well in order to replace the former currencies of occupied territories. These were issued in two different denominations: 5 Reichspfennig and 10 Reichspfennig.
However, members of the Wehrmacht and other occupying forces did in many cases use the original currencies of these occupied territories which is why the Reichskreditkassen coins (as well as most of the Reichskreditkassen banknotes) did not really play any role in handling transactions and were rather unpopular.
5 Reichspfennig (1940-1941)
Material: Zinc
Diameter: 19 mm
Weight: 2,5 g
Edge: Smooth
Obverse: Swastika in center, pierced by hole
Reverse: Eagle head above center hole, denomination below
Reference: KM# 98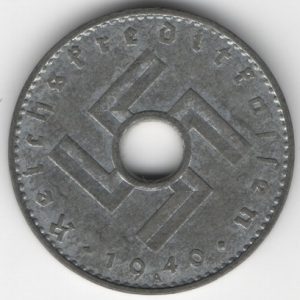 | Year | Mint | Mintage |
| --- | --- | --- |
| 1940 | A | 11.300.000 |
| 1940 | B | 3.000.000 |
| 1940 | D | 7.700.000 |
| 1940 | E | 2.400.000 |
| 1940 | F | 1.800.000 |
| 1940 | G | 1.200.000 |
| 1940 | J | 1.700.000 |
| 1941 | A | 10.700.000 |
| 1941 | F | 2.000.000 |
10 Reichspfennig (1940-1941)
Material: Zinc
Diameter: 21.05 mm
Weight: 3,33 g
Edge: Smooth
Obverse: Swastika in center, pierced by hole
Reverse: Eagle head above center hole, denomination below
Reference: KM# 99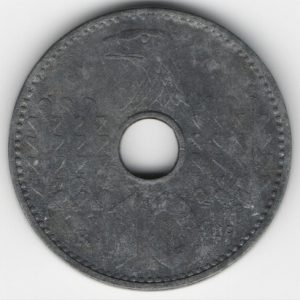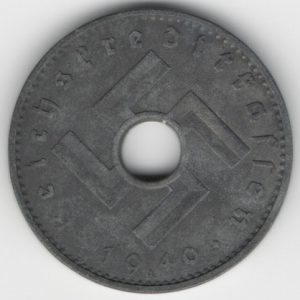 | Year | Mint | Mintage |
| --- | --- | --- |
| 1940 | A | 7.400.000 |
| 1940 | B | 843.000 |
| 1940 | D | 964.000 |
| 1940 | E | 510.000 |
| 1940 | F | 652.000 |
| 1940 | G | 2.300.000 |
| 1940 | J | 532.000 |
| 1941 | A | 9.500.000 |
| 1941 | F | included in 1940 |