Mintmarks: A - Berlin, J - Hamburg
After the German forces in WW1 advanced towards the East, a currency was required for newly occupied territories such as Estonia and parts of Russia. For that reason military coinage was minted in Berlin and Hamburg and declared as coinage for the 'Gebiet des Oberbefehlshaber Ost', translating 'region of the commander-in-chief East'. According to the historical exchange rate, 100 Kopeks were equal to 1 Russian Rouble.
The mintage numbers of these coins are relatively high and because these Kopeks were withdrawn after World War 1, these types usually are in a very good condition. Being minted of iron, these types are very vulnerable to humidity though. That is why many show signs of corrosion. However, even pieces in about uncirculated condition can be bought for less than 40 US-Dollars which makes a type set of Oberbefehlshaber OST Kopeks an easily accomplishable goal.
1 Kopek
Material: Iron
Diameter: 21 mm
Weight: 2,9 g
Edge: Smooth
Obverse: Inscription
Reverse: Denomination and date within iron cros
Reference: KM# 21, J. 601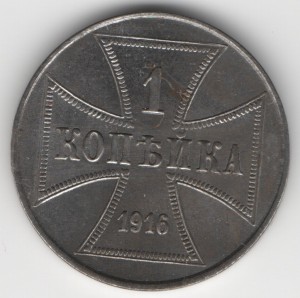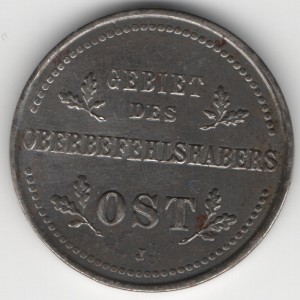 | Year | Mint | Mintage |
| --- | --- | --- |
| 1916 | A | 11.942.046 |
| 1916 | J | 7.682.000 |
2 Kopeks
Material: Iron
Diameter: 24 mm
Weight: 5,8 g
Edge: Smooth
Obverse: Inscription
Reverse: Denomination and date within iron cros
Reference: KM# 22, J. 602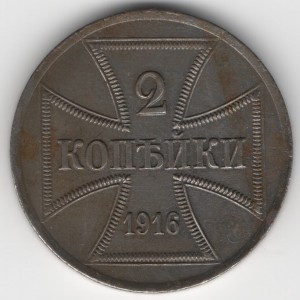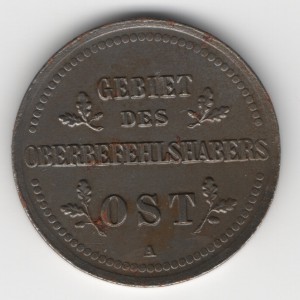 | Year | Mint | Mintage |
| --- | --- | --- |
| 1916 | A | 6.972.574 |
| 1916 | J | 8.017.000 |
3 Kopeks
Material: Iron
Diameter: 27,5 mm
Weight: 8,7 g
Edge: Smooth
Obverse: Inscription
Reverse: Denomination and date within iron cross
Reference: KM# 23, J. 603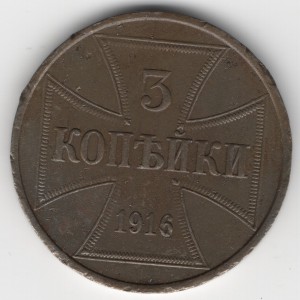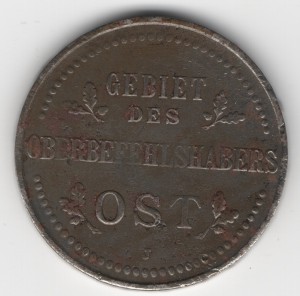 | Year | Mint | Mintage |
| --- | --- | --- |
| 1916 | A | 8.670.000 |
| 1916 | J | 7.903.000 |