Danzig coins of the 19th century
The city of Danzig became a part of the Prussian kingdom in 1793. In 1807, after being defeated by Napoleonic forces in the battle of Jena and Auerstedt, Prussia had to make peace with the French by signing the peace treaty of Tilsit. Terms included that the Danzig territory had to be put under French control. Eventually, Napoleon proclaimed Danzig a client state of the French Empire.
However, Napoleons campaign towards Russia failed and Russian forces besieged the city. Finally, the Congress of Vienna ruled that Danzig should be reunited with the province of West Prussia.
Thus, only one coin-type was minted for Danzig in the 19th century under Prussian rule. Still, because the Free City of Danzig is historically related with Prussia the two types that were minted in the time of Danzig being semi-independent are listed as well.
1 Schilling (1801)
Material: Copper
Diameter: 18 mm
Weight: 1,3 g
Edge: Smooth
Obverse: Crowned monogram FW
Reverse: Denomination, date, mint mark in 4 lines
Reference: KM# 135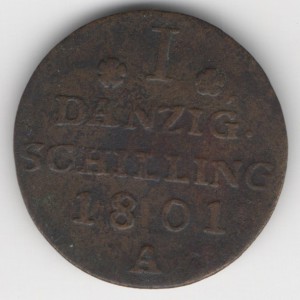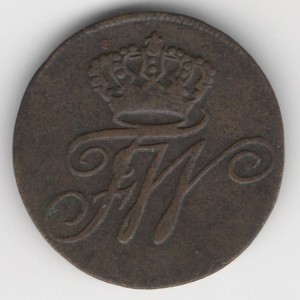 1 Schilling (1808-1812)
Material: Copper
Diameter: 16 mm
Weight: 1 g
Edge: Smooth
Obverse: Crowned arms divide date
Reverse: Denomination above spray, mint mark below
Reference: KM# 136, J. 152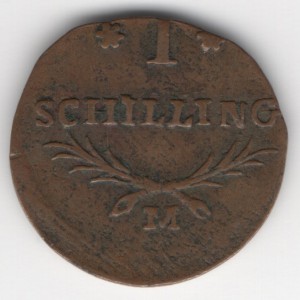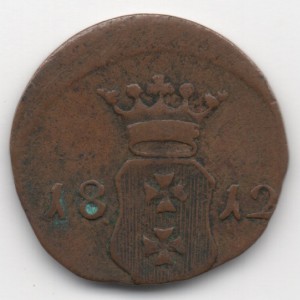 | Year | Mint | Mintage |
| --- | --- | --- |
| 1808 | M | - |
| 1812 | M | - |
1 Groschen (1809-1812)
Material: Copper
Diameter: 21 mm
Weight: 3,2
Edge: Smooth
Obverse: Denomination above spray within beaded circle
Reverse: Crowned and supported arms, date below
Reference: KM# 137, J. 153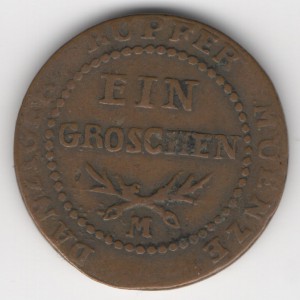 | Year | Mint | Mintage |
| --- | --- | --- |
| 1809 | M | - |
| 1812 | M | - |